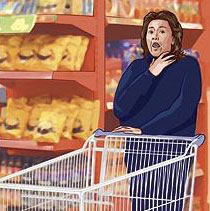 Jesus H....KNIFE WORLD!!?!!? Where the hell have you been all my life, or rather, where the hell have I been?
Have you ever gone through a lull in which nothing, absolutely nothing- no bands, no movies, no drink specials or drag shows can get you out of the house? You know a band is starting in thirty minutes and you have more than enough time to get there before you miss anything, but you decide to check your e-mail or that "Ohnotheydidnt" page six or seven more times in case Brangelina had the twins or something...you really don't care, but if you can stall yourself for ten more minutes then there would be no point in leaving. Come on, there's no sense in driving all the way there to miss a song or two and catch only the majority of a good set. You'd rather hate yourself the next day when you read up on how amazing the band played and how that guy got up on stage and managed to break dance with two broken arms, and MY GOD that will never happen again. Eh, whatever. There are rapists, muggers, and the car accident potential out there is absolutely crippling. You're a dumb ass.
Anyway, there are always those bands that you see on what seems like every bill, but a year or two go by and somehow, you never catch them. This happened to me with Gay Witch Abortion. Obviously that's a name you see everywhere, I never checked them out- maybe it was the Born Again Christian inside of me that told me to avoid them because Jesus would NOT want me to support a band with a name like that.
I'm serious, this thought went through my head. Thanks Mom.
I was at 7th Street one night last winter for a book reading/nostalgia cover band show with Laurie Lindeen when some guy ran out the door with an extension cord...then I heard raw rock and roll. I went outside to check it out and sure enough, it was coming from a van. I never found out who they were that night but I thought about it every day. I googled "drums," "guitar," "rock," "Minneapolis," and "van" over and over just hoping, hoping that someone would have documented them, but nothing ever came up. I told a woman I worked with about it and she said she'd mention it to her husband, as he's very much "in the know," so to speak. I heard nothing for months, then FINALLY Google turned something up.
(Different night, same van.)
Of course, I relay my discovery to co-worker woman and she's all like "Ohhhhhh yeah, I forgot to tell you that's who they were..." sheesh.
So where was a going with this? Right. KNIFE WORLD IS THE BEST BAND IN THE WHOLE WORLD (to me at this very moment anyway...). They're one of those bands on random basement bills and occasionally playing on a weekday stage with some act you've caught
somewhere else and didn't find them worth the five dollars to see again. I went so far as to hold on to Knife World's album at the Heliotrope show this year for at least FIVE MINUTES because the packaging itself is so amazing. 3D glasses are built into the center of the record, and the album artwork has dildos, sharks and dinosaurs on it...in 3D!!
After Saturday's Turf Club show, I can officially say that the bass player, metaphorically speaking, is dead. Not one of the four bands (Birthday Suits, Sic Alps, Knife World, or Wet Hair) had one, ironically...or not so ironically. Knife world is just raunchy fun garage-y in-you-face rock 'n' roll. The highlight of their set? They covered the Who's "Substitute," which not only is the CD in my CD player right now, but that specific song was playing when I got out of my car in the parking lot.
NEIL PERT NEIL PERT NEIL PERT! This will forever be known as the summer of the "Neil Pert Phenomonons." (Another blog altogether.) It is worth paying five bucks and sitting through American Apparel trend rhyming to see them. And if you see their album for sale, buy it.
The other highlight of the evening? A person says to me, "hey, we're Myspace friends," and shakes my hand. I should have said, "does this mean we're 'realspace' friends now?" but I choked. I couldn't believe that had just happened. Priceless.